"We slept in what was once the gymnasium." It was dark and dank now, with cobwebs decorating the corners that mildew had not taken yet. A green mist hovered over everything, but that was our fault. We were paranormal investigators and this was our third time investigating this school. It was the first time we stayed overnight though, and it was our night vision lights that turned the school green.
We chose the gym for several reasons. It was literally the driest area in the entire building other than the cafeteria, which was overgrown with mold and mice. It was also the place with the most frequent sightings. It was said that the ghost of a tortured basketball player who hanged himself from the rim haunted the building. Strange things began happening around the school after that.
The worst events happened in the gym, of course, and mostly during basketball season. When a visiting team died within a week after the meet, eyebrows started rising and home games were cancelled. When the basketball post fell and killed a cheerleader during a pep rally, they closed the gym permanently. It was not long after that when the rumors started about ghosts walking the halls. Parents stopped sending their children, and the state shut the school down.
That was forty years ago, and our previous attempts to investigate came up empty. Tonight, however, we had a full moon, and it was the anniversary of the hanging. If ghosts did indeed roam these halls, we believed they would show themselves tonight.
Four hours in, and two of the four of us were sleeping, assured that our sensors would alert us to activity beyond the gym's walls. We had cameras set up in key locations, and the laptop showed no activity as the hours stretched on. Morning came without incident so we packed up our gear in disappointment and headed back to our office.
~*~*~*~*~*~
"Hey, Mike, remember that high school we spent the night at a week ago?" Noah asked me.
"Yeah. What about it?"
"How come we never looked at the videos from that night?"
I shrugged. "Nothing happened." I saw concern mask Noah's face. "Why?"
"Something just hasn't sat right with me since that night." Noah's eyes studied the linoleum beneath his size 14 shoe. "I've been getting these strange urges. I can't even explain them."
Now that he had me thinking about, I realized Noah was right. I had experienced strange urges to rip my staff to pieces with my bare hands and envisioned their blood painting the white office walls crimson. Fear rippled through me like a blast of AC on a fevered body. "Let's take a look then. Should I assemble the team?"
The team consisted of Noah, Noah's twin sister Martha, Emerson the camera man, and me. Martha was close by but Emerson was out on another hunt.
Noah sighed. "I don't know, man. What if we're the only ones who feel this way? Martha hasn't mentioned anything and Emerson's been too busy to talk. I think we should just do it. Why waste their time when it could be nothing more than two old men's imaginations getting the better of them?"
"Who you calling old? Only old man I see here is you, and I think you're right. Let's pull the file."
Noah's fingers drummed on a stack of compact discs. "I already did." He opened the first jewel case and dropped it in the computer drive. The drive door slid closed with a soft swoosh. He brought his hand over the mouse and let it hover. A pop up appeared on the computer screen. His eyes looked at me expectantly. "You ready?"
A soft nod of my head and the computer screen went dark. Putrid green light burst from the screen. Yawns escaped as the hours ticked by with nothing happening. Noah clicked the fast forward button and it stayed the same up until I thought I saw something flash on the screen. In that same moment, an eerie, unexplainable sound came through the computer speakers.
"Stop! Rewind back five seconds. There! Freeze it!"
My mouth dropped open in trepidation. "What the hell? What am I doing?"
Another flash on the screen occurred before it went black, two hours before it should have. Something or someone had shut the camera off. Noah rewound it again, and more horror overwhelmed me. There I stood with a sick grin on my face as I turned the camera off. Every single disc showed the same thing– one of the four of us turning the camera off. Only Noah and I wore a sick grin as we did it though.
"Man, this is intense!" Noah said. He started to shut the computer down and I stopped him.
"We're missing something. I know we are. Let's look again!" I demanded. My mind was screaming at me that it was something obvious. It was through the second showing that I noticed the basketball, bouncing by itself, in the hallway behind each of us as we shut the cameras off. It explained the eerie noise. I shivered.
"Where's the video of the gym?" I asked.
The sound of jewel cases being scattered revealed that Noah was searching for it.
"It's not here!" He shouted.
"What the hell?" I asked again. We were a meticulously neat team. Martha's OCD assured that every file was orderly and complete. For the disc to be missing was extremely odd.
Noah looked at me with terror. "We turned off the cameras. Do you think Emerson or Martha could have taken it?"
"But why? None of the other discs are missing. Unless…" I thought I had the answer. "Noah, we have to find that disc before they start renovating that school. I have a feeling it is the key to everything."
Noah nodded. "I'll start looking here. Any unmarked discs will be watched. If I have to stay overnight, I will. And I will call Martha."
"Good. I will head home and search the closed files there. I'll call you soon." I said, my feet already halfway through the door. "Let me know what Martha says."
~*~*~*~*~*~*~*~*~
I spent several hours searching through my house only to come up empty. When I finally called it quits, I grabbed my cell phone and turned it on, disturbed to discover no one had called. At the very least, there should be a missed call or three from Noah. The fact that there was none alarmed me further. Something very sinister was happening. I needed to find the underlying cause of it immediately.
The drive to the office was uneventful. I pulled in the parking lot and parked, barely turning the engine off before throwing the door open and running inside. It was after hours and the front door was still unlocked. Fear enveloped me, causing the bile to rise in my throat. I ran into the conference room hoping to find Noah engaged in a late dinner, oblivious to the time. Hope dashed into tiny pieces like a crystal chandelier fallen from the ceiling when the room was empty. A yellow tablet of paper sat alone on the tabletop. I recognized Noah's handwriting, though the scribbles were too small for me to read from where I stood. The tablet taunted me until I walked over and picked it up. Noah's print was hurried but still legible.
MIKE: TRIED TO CALL, NO LUCK. FOUND MARTHA. DECIDED TO GO BACK TO THE GYM FOR ANSWERS. MEET US THERE. EMERSON IS EN ROUTE. SEE YOU SOON.
I ran back out the door, stopping long enough to lock it, cursing under my breath that they had not waited. I turned the key in the ignition only to be greeted by dead silence. I turned it again and heard a soft click. I tried with all my muster to swallow the ominous feeling rising from my belly and turned the key once more. The car quietly sang to life as if nothing was ever wrong. The radio came on as I was pulling onto the highway. The volume was louder than I remembered and it startled me so that I nearly ran off the road. A little voice in the back of my head began chanting Go home! Just go home! But I could not. This was my crew, the people who stood by my side for the past ten years, through my divorce and my attempted suicide. I could not abandon them now.
Two vehicles and the camera van were parked in the school lot. Emerson had beaten me there. I closed my eyes and breathed, willing the dread knotting in my throat to vanish. The air seemed chilly here, though that was not possible. We were in the middle of a record-breaking heat wave. Goosebumps rose on my skin as I walked towards the gym. An almost icy wind blew out the gymnasium door as I opened it. A green haze gave the gym it's only light. A video played on one wall. The echo of a basketball bouncing filled the space, yet there was no basketball in sight. Noah sat with his back facing me. Martha stood near him, the back of her chemically-produced cherry red hair also facing me. Only Emerson stood off to the side, the same sick grin I saw on mine and Noah's faces that night now decorated his as he set a camera on a tripod. He was so riveted to the video on the wall that he did not see me.
"What are you doing?" I asked him. The sick grin left his face as he looked at me. An unexplainable urge to snap him in two overcame me and I stuffed my fists into my pocket. A flash of white light on the wall distracted me before he could answer. Four bodies lay sleeping on the wall yet something was moving among them. One by one the four bodies rose, each departing in a different direction with only the sound of a ball bouncing accompanying them. The four walked slowly, limping more than stepping, as if it had been a long time since they had moved. All four heads hung oddly, though each hung in a different direction. The bodies disappeared from the wall completely until only the bouncing remained. Within seconds, the bouncing stopped and the bodies shuffled back in, their eyes shining white specks in the green light. Four bodies returned to their sleeping positions and the video continued playing revealing no further incidence.
The sound of a ball bouncing breached the silence and broke me out of my reverie. Noah and Martha turned their heads at the sound, as well.
"Look what I found," Emerson said, the sick grin firmly planted on his face again, his hand dribbling a basketball with precision. "Anyone up for a quick game of Four Corners?"
Cheers mingled with jeers filled the room as an invisible crowd filled the bleachers. We had an audience. Emerson passed the ball to me, challenging me to play. Martha swooped in, stealing the ball before I could secure it and headed for the basket. Up she flew, slamming the ball through the hoop in a perfect rim shot. Glass sprinkled down from the broken backboard as she landed, a sick grin on her face. Her tongue shot out and she licked her lips.
"That's one for me," she said, her soft voice unusually loud. Taunts bounced off the walls from the invisible audience. Martha looked into the bleachers as if she saw something there. My body quivered as a cold breeze passed through me.
"I am not a loser! Did you see that shot? Let's see you come down here and make that shot!" Martha pleaded with Emerson, though not one word had passed his lips.
Noah joined my side as we watched the strange game in fright. Martha dribbled the ball, faked a pass, and displayed skills neither of us had ever seen from her before. Emerson dove in, scored a sneak away, and headed for the opposite basket. Martha ran after him with unearthly speed. She did not try to stop him. She did not try to sneak the ball. She stopped at the post and waited, the sick grin changing to a wicked one. Her carefully trimmed eyebrows sunk into the bridge of her nose and a laugh erupted from her throat.
"Bring it on! Slam that ball!" She yelled, her voice as raspy as a teenage boy's approaching puberty was.
Emerson charged, bunched his legs close at the last minute, and leaped into the air, the ball high above his head. As his palm slammed on the rim, a rope came out of nowhere and fastened itself around his neck. He jerked twice as the rope pulled taut, his neck snapping sideways as gravity pulled him down.
Noah and I moved as one unit, rushing to help Emerson. It was clear by the lifeless look in his eyes that he was dead when we reached him. A cackle behind us startled us and we turned as the ball began bouncing again. Martha stood behind us now, the evil look still on her face, dribbling the basketball between her hands. Back and forth it bounced, swoosh-boom, swoosh-boom, each bounce echoing louder from the walls.
"Who's next?" Martha said, her tongue protruding from her mouth and licking her lips again. I knew it wasn't possible but I swore her tongue was forked. Panic set in as the ball stopped bouncing and was hurled in Noah's direction with enough force to throw him against the metal bleachers behind us. The crackle of breaking bones echoed throughout the gymnasium. Noah looked me straight in the eyes and I could read the agony behind them. His voice croaked out weak as blood trickled from the corner of his mouth.
"Run!" His lips said.
I did not need to be told twice.
~~~~~~~~~~~~~~~~~~~~~~~~~~~~~~~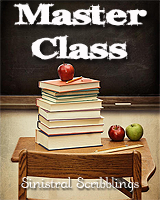 I missed the deadline but this was meant to be linked up with last week's Master Class. We were to use the first line from Margret Atwood's The Handmaid's Tale to begin our story. That line was "We slept in what was once the gymnasium." There's a new twist to this week's Master Class that will challenge us even further. If you haven't checked out this amazing writing meme, you should.
I am also linking this up to Studio 30+, whose prompts this week are "That Was Awkward" and "Broken bones."
I welcome and appreciate honest feedback. Please share your thoughts in a comment.
Thanks for stopping in!
NotNegation, unary operator in logic depicted as ~, ¬, or ! →