He stands there, stoic and bold.
Naked, he shivers in the cold.
Slowly he buds, now dressed in green.
His beauty now he does preen.
The wind with her whispers that flow right through
Entrance him with the kiss of a lover true.
All summer long with the sun he plays
Shaking his leaves, catching her rays.
Ere too long, the wind finds out
And whips his cheating heart about.
One by one, his leaves they fall
In a burst of flaming color, his vintage call.
They fall to earth like puzzle pieces
His love, his life, his beauty ceases.
~~~~~~~~~~~~~~~~~~~~~~~~~~~~~~~~~
This week's 100 Word Song was chosen by moi. My long time love affair with Faith No More's talented lead singer, Mike Patton, led me to chose the creative "Falling to Pieces."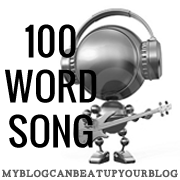 This is my take on it.
I'm not a poet, though I write it occasionally. I'd still love to get your feedback. Please share your thoughts in a comment before you leave.
Thanks for stopping in!!
Before you leave, you need to know that Round 3 is starting over at America's Next Author, where I have entered my story, Gloria (only spiffed up and shiny), for you to read, rate, review and most of all VOTE on so I can fulfill my dream of becoming America's Next Author. I made it to #43 last week, my first week in, let's see if I can make the top 5 this week! I know I can with your help!! Leeroy's soul mate, Lance, has a piece over there too, along with my friends, Cameron, and Andra! They need your votes too!
Also, Cameron's much anticipated new e-release, Buck's Landing is now available for purchase, BUT my best writerly friend, Carrie, at The Muse Unleashed, is offering it free in a giveaway over at her place. You don't want to miss this. Cameron is a talented author with a promising future in writing. Her characters are real, easy to relate to, and lovable. Her stories will take you away on a vacation you will never forget. Your book shelf is not complete until you have added Buck's Landing. Visit Carrie today, and win your copy!